Do Airline Ventilation Systems Make Flying Safe?
By Peter Schulteis
Updated Nov. 18, 2020 4:05 pm ET
Business and leisure travel have been slow to rebound from the Covid-19 pandemic. However, air travel is proving to be even safer than originally thought by most experts. According to a Boeing press release*, the ventilation systems on airplanes are extremely effective and can capture up to 99.9% of airborne viruses and bacteria in the cabin. CNN recently reported essentially the same findings in a recent article titled "Modern Aircraft Ventilation System Aren't Spreading Viruses, DoD Study Suggests"**.
It's about the science, but many would-be travelers are still hesitant to book that flight because they do not have the "peace of mind" that they may have had prior to Covid-19. Hint, the HEPA filters are the same, it is just the perception that needs to be reconditioned and that will take some time. You cannot blame people for not traveling because of Covid-19 and ongoing security concerns that seem to be ubiquitous. Air travel was and will continue to be an undesirable, but necessary experience if you want to see the world or travel "across the pond" again.
Cruise Ships Open for Business?
Speaking of traveling "across the pond". According to a recent Wall Street Journal article by Dave Sebastian***, U.S. federal health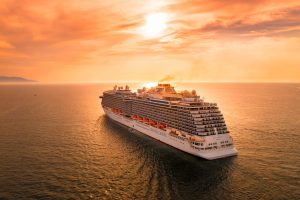 officials (Center for Disease Control and Prevention) lifted the ban on cruise sailing in U.S. waters. The timing seems a little off, considering that we just had an election that is still being contested, and the U.S. just set record high coronavirus cases last week, with new infections hitting a record daily high 88,500 recently. Even with the ban being lifted, Carnival, Royal Caribbean and Norwegian cruise lines have all scrapped their U.S. sailing through the end of November.
There are many challenges that we all must deal with over the next 6-12 months, but it is encouraging to see that the travel industry is trying to restore confidence to would-be travelers. While the industry is being cautiously optimistic, the world moves on and people will increasingly want a to travel, and travel safely. Travel Medical and Emergency Medical Air Evacuation insurance is an important component to the safety and security of your next international trip or luxurious cruise.
* https://boeing.mediaroom.com/2020-05-14-Boeing-Names-Delaney-to-Lead-Confident-Travel-Initiative
** https://www.cnn.com/travel/article/airplanes-ventilation-study-covid-19/index.html
*** https://www.wsj.com/articles/cdc-to-allow-cruise-trips-after-ban-expires-11604084351